SELF CONTAINED EMERGENCY SHOWERS
We manufacture standard emergency shower models and also custom units based on client needs. Our showers are fully engineered and meet required standards and certifications.
Unlike our competitors our standard sump is designed to contain the entire volume of water eliminating concern for chemically contaminated water spilling onto the ground. Alternatively locations with a secondary containment system can utilize a reduced sump design plumbed to their collection system. Our units utilize industrial grade components and materials ensuring durability for long utilization cycles in the field. All models are easily relocatable and can be rapidly deployed by using the integrated fork pockets. Set up time is minimal, all that's required is a source of electricity, our shower models arrive turnkey and commissioned and can generally be ready for use in less than 60 minutes. We can also provide trailer mounted units with or without onboard diesel generator power.
Standard Specifications
Engineered and certified to ANSI/ISEA Z358.1 2009
600 USG water supply
General purpose electrical
120 dB audible alarm and flashing red beacon
Single acting activation switch
Full containment sump
PVC external tank fill and vacuum connections
PVC shower system
Integrated Forklift Pockets
R-10 insulated double clad aluminum panel, white/white
External tank drain connection, 3″
Safety Glass Windows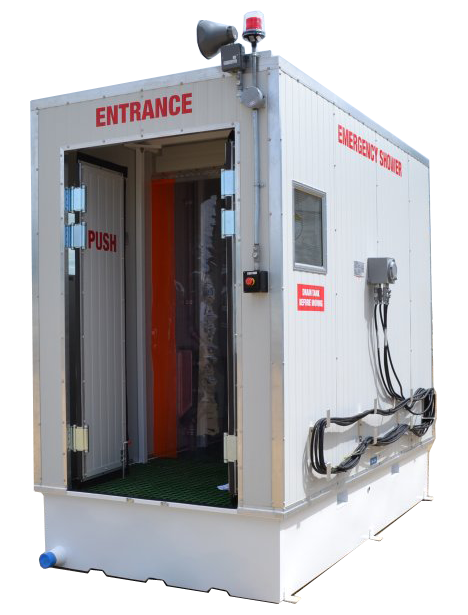 Optional Features
Bi-directional saloon style spring hinges
Labelled under Part 10 of the Alberta Building Code
Galvanized steel grating
Class 1 Zone 2 electrical
Heating and/or air conditioning
CSA, NRTL or CE electrical certification
External PLC output connection
Engineered lifting frame
Galvanized or stainless steel shower
Stainless steel top fill and vacuum connections
Industrial grade chemical resistant FRP floor grating
Drench hose attachment
R-20 or R-30 insulation
Ultraviolet water treatment system
Automated activation system on door motion